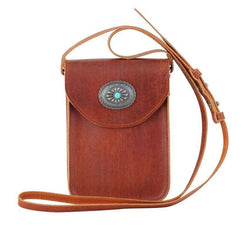 Leather Concho Cellphone Crossbody
Made with distressed genuine leather and rough-cut edges, the Leather Concho Cellphone Crossbody is perfect for carrying all your essentials and cellphone on the go. Made with genuine leather, this concho crossbody has a magnetic clasp closure and a floral concho design on the front flap, giving it a simple, yet elegant design. 
Material: Distressed Leather Lining Material: Leather Type of Closure : Magnetic Measurements: 5"L X 7.5"W X 1.5"D, Strap: 50"L Drop Length: 22"