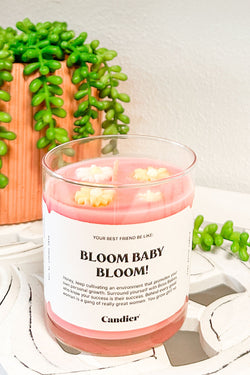 Bloom Baby Bloom captures the delicate fragrances of lavender, jasmine and carnation flowers. Its sweet and pretty scent is perfect for any room in your home, or makes a lovely wedding or shower gift. With 100% natural soy wax and essential oils, this candle is made without any nasty additives. Best of all? It burns cleanly and evenly, leaving no smoke or soot behind.
About the Candle

100% natural soy wax

Fragranced with essential oils

Hand poured in the USA 

Cruelty free

60+ Hr burn time

Contains no gross goop. No carcinogens, no parabens, no phthalates
A portion of all our sales help support the next generation of leaders by donating to the amazing non-profit Girls Inc.